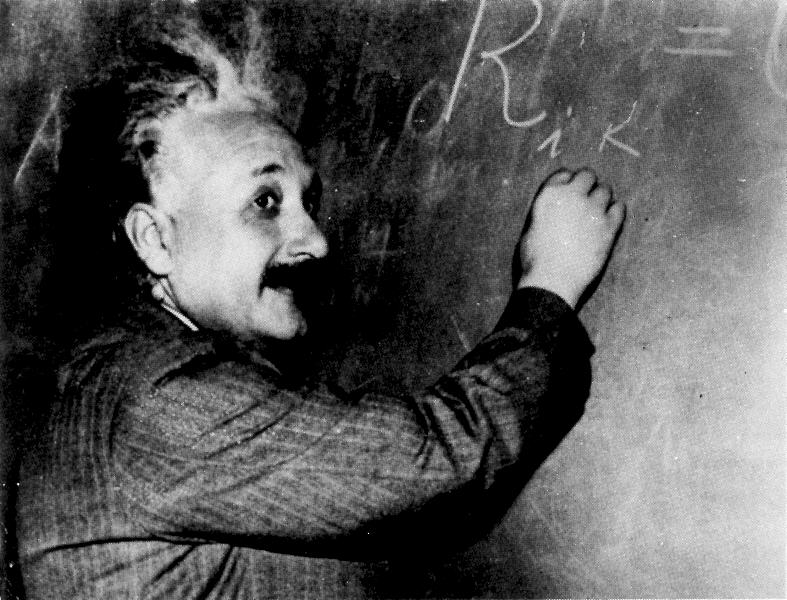 Professor:

Prof. Dr. Frans R. Klinkhamer

Assistance:

Seminar time:

The first meeting is sheduled for October 19, 2018 at 11:30.

Further dates will be determined later.

Seminar place:

Seminar room 12-01 in the building 30.23.

Room 12-01 is available to the Hauptseminar students for discussions on the dates not mentioned in the table (between 11:30 and 13:00).

Sign-up:

This seminar is aimed at Diplom/Master-level students. We will discuss some of the most important Einstein papers.

If you would like to participate in the seminar, you must attend the first meeting, in which the seminar topics will be distributed.

If for some reason you cannot attend the first meeting, please contact Dr. Queiruga beforehand.
| | | | |
| --- | --- | --- | --- |
| 1 | 09.11.2018 | X.Y. | Ist die Trägheit eines Körpers von seinem Energieinhalt abhängig? (A. Einstein, 1905) |
| 2 | 16.11.2018 | U.E. | On the relativity principle and the conclusions drawn from it (A. Einstein, 1907) |
| 3 | 23.11.2018 | L.R. | Über den Einfluß der Schwerkraft auf die Ausbreitung des Lichtes (A. Einstein, 1911) |
| 4a | 07.12.2018 | J.D. | Die Nordströmsche Gravitationstheorie vom Standpunkt des absoluten Differentialkalküls (A. Einstein and A. Fokker, 1914) |
| 4b | 07.12.2018 | J.D.. | |
| 5 | 21.12.2018 | A.N. | Die Gundlage der allgemeinen Relativitätstheorie, Sections A-B (A. Einstein, 1916) |
| 6 | 11.01.2019 | F.K. | Die Grundlage der allgemeinen Relativitätstheorie, Sections C-E (A. Einstein, 1916) |
| 7a | 25.01.2019 | A.Z. | Plane Gravitational Waves in General Relativity (H. Bondi, 1957) |
| 7b | 25.01.2019 | A.Z. | Observation of gravitational waves from a binary black hole merger (LIGO Scientific Collaboration and Virgo Collaboration, 2016) |
| 8 | 08.02.2019 | F.E. | Kosmologische Betrachtungen zur allgemeinen Relativitätstheorie (A. Einstein, 1917) |